Manufacturing Capabilities
Covercraft's extensive experience and longevity as a premier softgoods manufacturer, along with our broad network of vendors of piece goods, factory equipment, and management-related software, enable us to provide a complete line of services.  Whether you require simply a CMT program where you provide the patterns, piece goods and manufacturing specifications or a complete finished product program where we source all the necessary piece goods and trim and supply a full service package from pattern design to shipment to the end user, we can provide the services and fulfill your needs.
---
Piece Goods Sourcing and Storage
Over one hundred thousand square feet (100,000'2) of warehousing/ distribution space allow us tremendous flexibility and quick turn capability not available with minimal resources.  When considering a contract manufacturer with whom to partner, it is imperative you investigate all the ramifications of that venture, not least of which are the physical and financial assets brought to the table.  Our associations and dealings with numerous foreign and domestic vendors of material and trim give us the exceptional ability to react to change and provide service necessary to mutually beneficial relationship.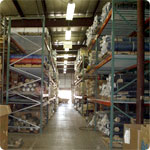 ---
Computerized Cutting
All of our factory locations are equipped with Computer Integrated Manufacturing cutting equipment (both Gerber and Lectra) to maximize our cutting efficiency in both speed and fabric utilization.  This allows us to provide far better piece goods yield than is available with die cutting, manual high-knife or table cutting while optimizing cutting accuracy.  CIM cutters offer die cut accuracy with significant reduction in fabric loss and far shorter throughput time.  Our equipment is such that we can cut single or multiple plies with the same level of accuracy and speed.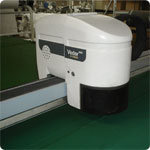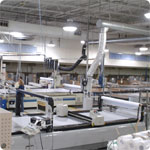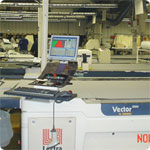 ---
Embroidery, Silk Screen and Embossing
Regardless of the level of "personalization" or brand identification your product requires, we have the wherewithal to address your needs.  Whether your product requires a large silk screened customer personalization or a small inconspicuous embroidered logo on the corner, we have the equipment and expertise to fulfill your specific needs.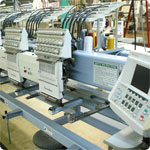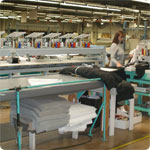 ---
State of the Art Manufacturing in the Sewing Room
Unit Production Sewing Technology allows us to offer the most sophisticated product handling to minimize cost per unit over traditional progressive bundle operating methods and, with the same tool, dramatically diminish work-in-process and turn time.  Typical orders ship complete within two weeks of receipt regardless of which facility produces the goods.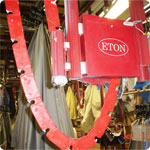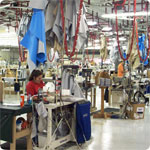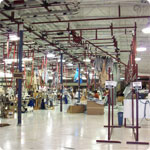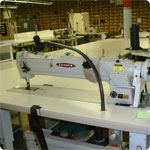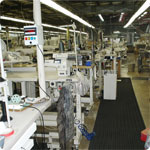 While our Unit Production Systems are a tremendous asset and allow us to operate with exceptionally low work-in-process, we also employ celled production (single piece flow) and, in some products, the traditional progressive bundle system.  Our manufacturing philosophy is "A place for everything, and everything in its place", if you will.  This insightful management philosophy allows us to apply the best technical solution to the circumstances the situation requires.